Central Asia Real-Time Strong Motion Network (ACROSS)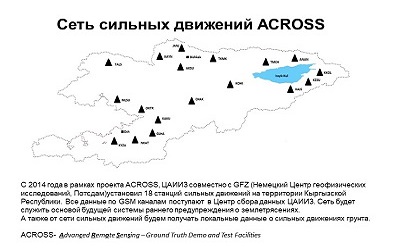 Central Asia Real-Time Strong Motion Network (ACROSS)
1)Aim
The aim ofthe ACROSS project is the installation of a permanent real-time strong motion network in Central Asia that can be used, in future, also as the back bone of a regional early warning rapid response system. ACROSS is fully funded by the Helmholtz Association and it is considered as a pilot project of a possible future larger initiative (GEMIS). The number of planned stations will depend on the installation cost, in particular to the number of stations requiringa VSAT connection, and should range between 25 and 40.ACROSS provides the funding for the hardware and software requirements but it is not financing personnel.
The duration of the initiative is between 2014and 2017.
The long term sustainability of the network should rely on:
1) Basic maintenance support form GFZ
2) Involvement and contribution (especially for investments for permanent data transmission) by local MES
2)Involved institutions (till October 2014)
GFZ (coordinator), CAIAG (local implementation center through the maintenance contract with GFZ), INGV (data base and software, through a contract with GFZ). GEMPA will support the installation and configuration of SeiscomP3 servers at the different Data Centers (contract with GFZ).
CAREN (support, cooperation)
To be involved:Local Institutions and MES in each country.
Discussion with MES Kyrgyzstan advanced
Discussion with MES Kazakhstan in October 2014 in Almaty
First contacts with Tajikistan and Turkmenistan started
3)Installation of the network
Before starting the network installation it is foreseen that the responsible persons from CAIAG will be trained for 1 week at the GFZ. It is suggested that for the first installation(s) in Kyrgyzstan a technician from the GFZ will be present.
Although the network geometry can be tentatively decided by using network optimization algorithms, it is expected that local logistic problems will play a major role.It is therefore suggested that the site selection will be completed following different steps:
STEP 1 (main GFZ; Coop CAIAG)
The selection of a possible location should be driven by a series of factors/requirements combination like:
optimal location derived by network optimization studies (medium weight)
availability of public buildings (mainly schools, university, hospitals or local governmental ones) (high weight).
The final installation should be done making a small housing (see below) in a small garden or protected area out of it.
sustainability for long terminstallation and maintenance (high weight)
internet availability and stability of connection (It should be evaluated if CAREN might help with the specific site)(high weight)
geological/geomorphological conditions (low weight)
In this phase, if possible, information on geotechnical or geophysical analysis available should be collected.
STEP 2 (GFZ-CAIAG)
Once a potential site is individuated a first visit to the site should be organized in order to contact the owners (or responsible for the building), and for a careful on-site inspection. If possible a short seismic noise acquisition using one of the seismological stations of CAIAG should be carried out and an H/V calculated. For installations in public infrastructure units it is suggested that one representative of GFZ will participate together with CAIAG personnel.
Step 3 Temporary-installation (main CAIAG, coop GFZ)
If step 2 show that the site might be suitable for the installation, a temporary installation should be carried out for a period of 3-6 months. During this period the stability andefficiency of the data communication should be checked, as well as of quality of the acquired data (existence of persistent strong noise sources nearby etc).
The temporary installation should be carried out by CAIAG staff.
Requirements are:
station (Nanometrics Centaur digitizer plus Titan accelerometer)
power supply station (2x 100W solar panel, metal frames for the solar panels, 1x 200Ah battery, solar controller)
some sites (e.g. hospitals) needs only overvoltage protection since a generator is available in case of power blackout
no housing (e.g. cellar of a building)
The data collected during the temporary installation will allow a final decision for a future installation, i.e.
If the results are negative, the operations will start again from STEP1 at another site
If the results are positive a permanent installation will be carried out following these requirements depending on the site.
STEP4 Permanent-installation (main CAIAG, GFZ remote supervision)
a) permanent installation without VSAT
station
power supply station: (2x 100W solar panel, metal frames for the solar panels, 1x 200Ah battery, solar controller, network router )
housing 1x1m should be enough, with isolation
b) permanent installation with VSAT
station
power supply station: (2x 100W solar panel, metal frames for the solar panels, 1x 200Ah battery, solar controller, network router )
VSAT equipment: (antenna, mast, BUC and LNC, modem, cables)
power supply VSAT: (6x 100W solar panels, metal frames for the solar panel, 3x 200Ah batteries, solar controller, cables)
housing 2x2-3m
The station will be powered for all different types if available by the normal power line, in case of power blackout the power supply will be managed by a battery/solar panel installation.
The real-time data acquisition will be based on the seedlink-protocol(200 sps, 3 channels).
A sketch for the housing proposed for the permanent installation is shown in Figure 2. Please note that the inside part of the small house should be thermal isolated using foam insulation material.
Figure 2.Sketch of the housing for the permanent stations. The inset shows a detail for the walls. Please note that the dimension can be scaled depending on the requirements.
All material for the housing, consumables and batteries will be bought in the respective country under the direction of CAIAG.
4)data base creation (INGV main, CAIAG partner, GFZ supervision)
This task will be carried out within 2015 by INGV in cooperation with CAIAG
In the following here INGV will provide the necessary support.
The foreseen layout of the network is shown in Figure 3. The installation and the optimal configuration of the SeiscomP3 severs located at different Data Centers will be managed by GEMPA company through a contract with GFZ, and supported by CAIAG experts.
Figure 3.The expected layout of the data center
Remarks on technical support
In order to complete a successful installation of the network technical support (internally from GFZ) for data transmission decisions, training of CAIAG personnel, station installation is required. A close cooperation with Geofon is foreseen but a more close cooperation with GFZ technical staff is necessary.