Sustainable development of Issyk-Kul: GIS and inventory of WSS assets.
Project "Sustainable Development of Issyk-Kul: Geographic Information System and Assets Inventory " of the Asian Development Bank
Summary
Geoinformation systems are an important tool for effective planning and management of urban infrastructure. This project is designed to create digital maps of three Issyk-Kul cities and a database of their water supply and sewerage systems. The Issyk-Kul Lake is one of the largest alpine lakes in the world. The amazing transparency and purity of the lake's water make the Issyk-Kul popular for holiday not only for the residents of Kyrgyzstan, but also for many tourists from foreign countries. The developed geoinformation system helps to effectively manage the water supply, sewerage and other urban services systems in the towns of Balykchi, Cholpon-Ata and Karakol, reducing the negative impact of urban development on the environment of the Issyk-Kul Biosphere Reserve.
Responsible executor A.V. Zubovich
Executors: Jantaev M., Abdybachaev U., Barkalov S., Mandychev D., Savin V., Mosienko O., Abdrahmanova G., Aliev B., Serenkov A., Konokov T., Dudashvili A..
Goals. Creation of a geo information system and assets inventory of the water supply and sewage systems in the Issyk-Kul towns of Balykchi, Cholpon-Ata and Karakol.
Outcome
Conducted GPS survey of reference control points for three Issyk-Kul towns. According to the survey data, geo referencing of acquired high-resolution space images with orthorectification was performed, geo referencing of topographic and cadastral maps of the scale 1: 2000 was carried out.
A model and database structure were developed and implemented on the PostgreSQL DBMS.
Vectorization of topographic and cadastral maps on 13 layers was carried out, and their content was filled with attributive information.
Geodetic surveying of all the assets of the water supply and sewerage system for these towns was carried out, their vectorization was performed on 21 layers, an inventory of assets and registering of data in the database were done.
Remote Web-GIS-access to the database was organized.
Based on the QuantumGIS libraries, a management program for geo information system and a WSS GIS database were developed.
The multistage training of specialists of Vodokanal and Urban Architectural entities on working with the developed system was conducted. A user manual on 146 pages was prepared.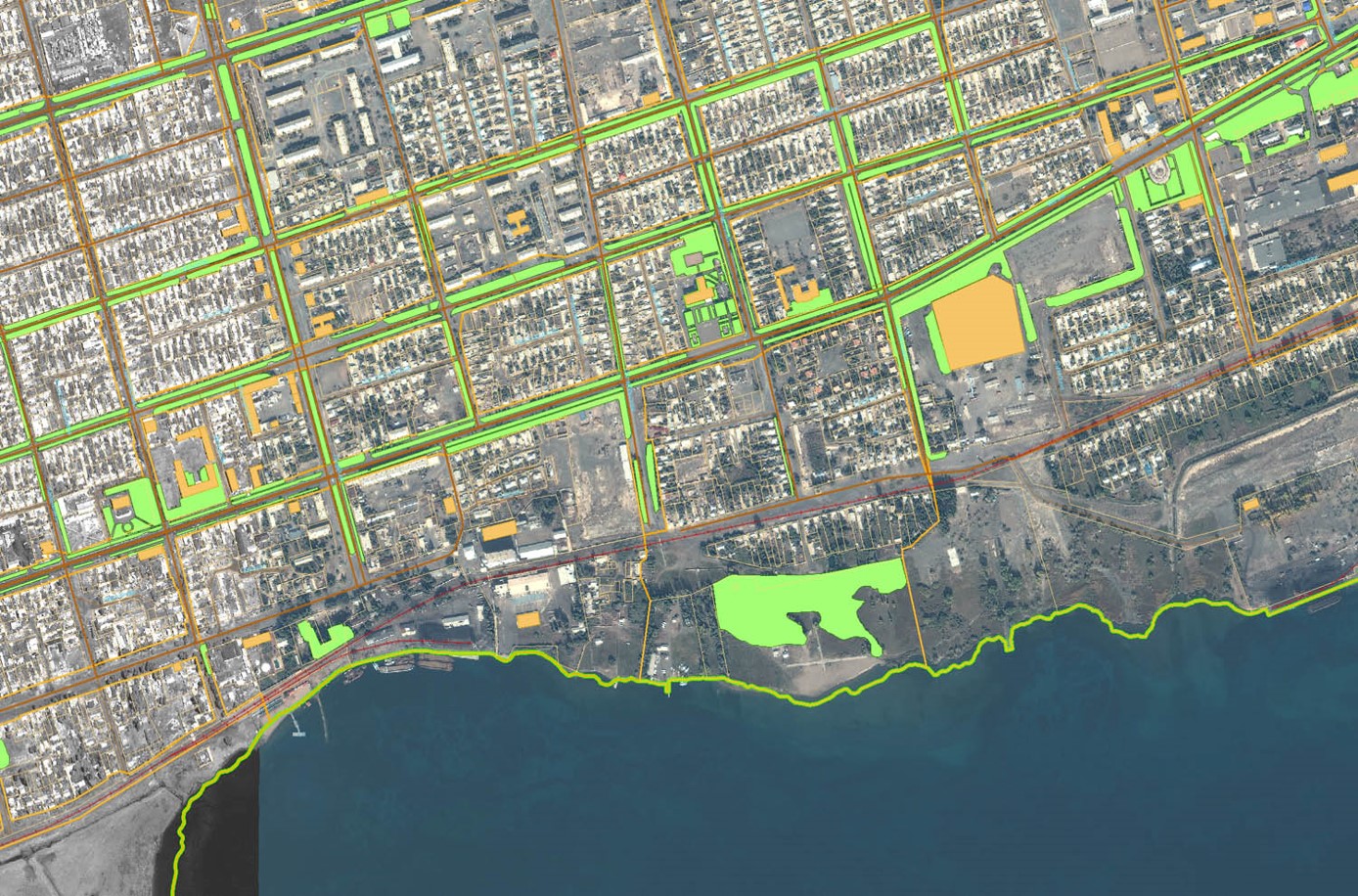 External and internal cooperation. The works were carried out with the participation of the specialists from the CAIAG departments 4, 1, 2 and 5 as well as with the Kyrgyz Geo information Systems Center in close cooperation with the Asian Development Bank, the Project Implementation Department, Vodokanals and the City Architects entities of the towns of Balykchi, Cholpon-Ata and Karakol.
Plans. The Project was finished in 2011.