Celebrating Risk Reduction Heroes in Central Asia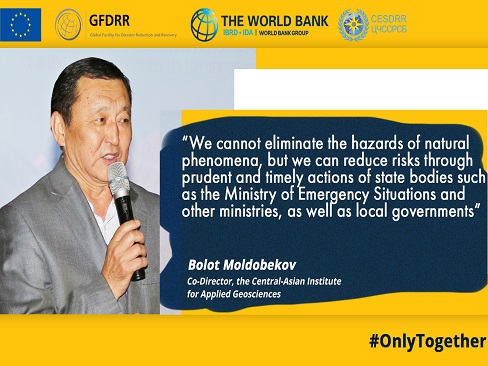 Celebrating Risk Reduction Heroes in Central Asia
The interviewed disaster risk professionals are members of the Regional Scientific Technical Council (RSTC), a regional body meant to foster close cooperation among Central Asian countries around disaster risk management. The Council members collaborate in scientific research, education, and technical expertise.
The Council was established in the framework of the SFRARR Program, which is funded by the European Union, managed by the Global Facility for Disaster Reduction and Recovery (GFDRR) and implemented by the World Bank in close collaboration with the Center for Emergency Situations and Disaster Risk Reduction (CESDRR). The Program aims to support Central Asian countries in building disaster resilience and strengthening capacities for financial protection.
On the International Day for Disaster Risk Reduction, our team at the "Strengthening Financial Resilience and Accelerating Risk Reduction in Central Asia" program (SFRARR Program) spoke with four Central Asian professionals, who dedicate their lives to making this region safer.
Disaster risk professionals, like the people we feature here, play a key role in the safety of their fellow citizens. Their jobs are wide-ranging and on any given day they might be asked to analyze data and weather patterns, advise on how to construct safe buildings, take care of related accidents, prevent risks and, of course, serve as the first responder to a natural disaster.
Bolot Moldobekov
Co-Director, the Central Asian Institute for Applied Geosciences
Kyrgyz Republic;
Shakhlo Sodatsairova
Chief of the Construction and Bank Protection Department
the Agency for Land Reclamation and Irrigation under the Government of the Republic of Tajikistan;
Valeriy Petrov
Retired Major General, Former Vice-Minister of Emergency Situations of the Republic of Kazakhstan;
Pulod Aminzoda
Director, Institute of Geology, Earthquake Engineering and Seismology, National Academy of the Sciences of the Republic of Tajikistan.
Bolot Moldobekov
How did you choose your profession?
It was a conscious decision. I grew up in a mountainous area. As a child, I used to take walks in the mountains, collect beautiful colorful stones and minerals.
I was fond of reading books about expeditions and famous geologists - academician A.E. Fersman, Musa Adyshev, Oleg Kuvaev, and other well-known scientists-travelers. After I graduated from school, I was determined to become a geologist and entered the geological faculty of the Frunze Polytechnic Institute (FPI). Upon graduation from FPI, I was assigned to the Institute of Geology of the Academy of Sciences of the Kirghiz Soviet Socialist Republic, and later, I was sent to intern at the geological faculty of the Lomonosov Moscow State University (MSU) in the Department of Engineering Geology and Environmental Protection. Subsequently, I defended my PhD at MSU and went back to teach at FPI, where I later served as the Dean of the Faculty.
In 1992, I was invited to the State Commission on Emergency Situations of the Kyrgyz Republic, where I created the Center for Monitoring and Protection from Dangerous Natural Processes. In 1998, I was appointed as a Deputy Minister of Emergency Situations of Kyrgyz Republic, and in 2004, I have established the Central Asian Institute of Applied Geosciences, where I currently serve as a co-director.
What are the biggest challenges in Central Asia when it comes to preparing for disasters?
The lack and poor development of monitoring and early warning systems for natural disasters, such as earthquakes, floods, and outbursts of high-altitude dangerous lakes of transboundary nature. We should create and develop such systems among Central Asian countries, since all of these countries are in the highly seismic Pamir-Tien Shan and Kopetdag zones.
Historical seismic events of the last 150 years, such as Belovodskoe (1885), Vernenskoe (1887), Ashkhabad (1948), Khait (1949), Tashkent (1966), and other catastrophic earthquakes should remind us of this danger. Earthquakes frequently damage cities and settlements in this region. In mountainous areas, these earthquakes can trigger other natural hazards: landslides, rockfalls, rockslides and collapses, breakthroughs of high mountain lakes, and mudslides.
Forewarned is forearmed. Countries of Central Asia should create a unified system of early warning for dangerous natural processes.
If you could make one change in disaster risk management today, what would that be?
We cannot eliminate the hazards of natural phenomena, but we can reduce risks through prudent and timely actions of state bodies such as the Ministry of Emergency Situations and other ministries, as well as local governments. It is necessary to organize interstate cooperation and combine efforts of state and public structures in the field of disaster risk reduction.
Prepared by World Bank materials.