World Water Day online
"Capacity building and Scientific Cooperation" CAIAG 22-March 2021
On March 22, 2021, by the initiative of the 4th department of CAIAG "Capacity Building and Scientific Cooperation", employees of the Central Asian Institute for Applied Geosciences took part in a panel discussion organized by the Bishkek American Center at the K. Bayalinov Library. Discussion was dedicated to World Water Day or World Water Day on March 22, which was held online. The main goal of the discussion was to discuss the problems of water resources of the Kyrgyz Republic, glaciers, gender equality issues, as well as exchange views and plans for the development of international cooperation on water resources. Panel discussion participants:
- Bishkek AC - moderator
- Olga Kalashnikova, hydrologist, researcher
- Julia Podrezova, Ph.D. Sci., climatologist, senior researcher
- Nargiza Shayldaeva, PhD, hydrologist, researcher
To view the discussion, follow the link:
#AmSpacesatHome #BishkekAC #WorldWaterDay #USEmbassyKG #ackg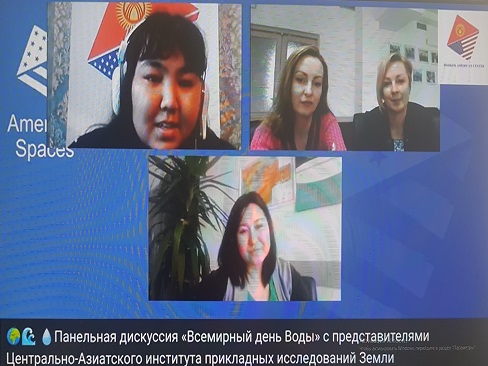 Prepared from our own materials.