Summer School: "Learning Landscapes through Environmental Research and Monitoring"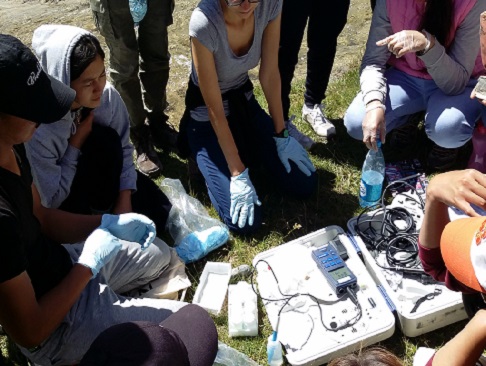 Summer School: "Learning Landscapes through Environmental Research and Monitoring".

July 3rd to 11th 2019, Naryn
We are pleased to announce a call for applications for the second Summer School on Learning Landscapes through Environmental Research and Monitoring.

The Summer School is a part of the Paleoclimate, Environmental Change and Social Interaction in Central Asia (PALESCA) project, and is funded by the German Federal Ministry for Education and Research (BMBF). In addition to UCA's MSRI, PALESCA implementing partners include GFZ Potsdam, Central-Asian Institute for Applied Geosciences (CAIAG), Kyrgyz-Russian Slavic University, and the State Agency for Environment Protection and Forestry of the Government of the Kyrgyz Republic (SAEPF).

The Summer School seeks to enhance capacity of students and researchers, who study environmental sciences or conduct scientific research. It will offer lectures and field surveys, covering the following topics:
Geomorphology. Natural disasters in mountainous regions
Geology of Naryn: active mountains of Tien-Shan
Climate and phenology
Soil
Dendrochronology: past and present in tree rings
Methods of water discharge measurement
Lake sediments
Biological proxies in paleoclimatology
Protected areas and wild life studies
Ecology and pasture management
Participatory monitoring and citizen science
Socio-economic aspects of mountain regions development
Field surveys and laboratory-based works will be conducted in the University of Central Asia's Naryn Campus and Naryn State University, as well as in Salkyn Tor National Park, Naryn State Nature Reserve, Chatyr-Kul Lake, Ken-Saz summer pasture, in the village of Dobolu, and around the city of Naryn.

The participants of the Summer School will make field trips to Salkyn Tor National Park, Bugu Maral deer nursery, and unique historical and archaeological sites of the Great Silk Road – Tash Rabat Caravanserai and Koshoi Korgon ruined fortress. The program also includes visits to Naryn Museum, and a milk processing factory.

The key lecturers of the Summer School include Professor Dr. Helmut Echtler, Dr. Jens Mingram, and Julia Kalanke (GFZ); Dr. Kanaiym Teshebaeva (VRIJE University of Amsterdam); Professor Dr. Roy Sidle, Dr. Lira Sagynbekova, Dr. Maksim Kulikov; Candidate of Biological Sciences Jyldyz Shigaeva, Azamat Azarov, and Samat Kalmuratov (UCA); Candidate of Geographical Sciences Natalia Ershova (KRSU); Candidate of Agricultural Sciences Ermek Baibagyshov (NSU); Gulzar Omurova (CAIAG); Zoia Kretova (KyrgyzHydromet) and Aliya Ibraimova (CAMP Alatoo).

Summer School Format
The Summer School will offer lectures, discussions, practical (laboratory) exercises and field experiments, as well as interesting field trips. The language of instruction will be English and Russian (translation will be provided).

Upon successful completion of the Summer School, the participants will receive Summer School Completion Certificates.

Qualification Requirements
Undergraduate or graduate students, studying environmental sciences (geography, ecology, geology, hydrology, biology and other related disciplines).
Applicant's passport should be valid at least until the end of 2019 (field trips to cross-border areas will require special permissions from border authorities).
English skills are desirable.
Undergraduate and graduate students at Kyrgyz universities, as well as of international universities of Central Asia are encouraged to apply (financial support will be provided only to cover expenses that occur in Kyrgyzstan).

When selecting applicants for the Camp, the decision-makers will make sure the participants are selected to represent different universities, and will ensure gender balance.

Participation Cost
The Summer School will cover the following costs – cost of study, transportation from/to the regions (based on average cost of travel by public buses or minibuses), a two-way trip Bishkek-Naryn, accommodation, food and field trips during the summer school. Students, coming from other countries, cover transportation costs and living costs in Bishkek, using their own funds.

Application Process
Applicants should fill out an online registration form, which should be submitted (https://summeruniversity2019.msri.io/palesca/index.html?lang=en) along with the following documents, prepared in Russian:
Resume
Cover letter (maximum 1 page), describing (i) respective skills of the applicant, (ii) why he/she is interested in participation, (iii) how the participation can benefit candidate's future professional or research activities
ID passport copy
Application Deadline: May 26th 2019

If you have any questions, please contact: This email address is being protected from spambots. You need JavaScript enabled to view it.

Detailed information about PALESCA project is available at: http://palesca.msri.io